Honorary membership
The Honorary membership is awarded to special persons within ECAHO who contributed significantly to development of ECAHO, Shows and welfare of the Arabian Horses. Any Member organizations has right to propose those persons to the Executive Committee. The Honorary membership is awarded at the Annual General Meetings.
2018
Mrs. Joanna Maxwell
Joanna and her husband Pat Maxwell brought the Arabians to Europe. Their farm Lodge Farm Arabians had of Europe's most celebrated and successful Arabian horse breeding programs. Joanna and her husband bred 5 World Champions mainly different bloodlines. Next to great show horses she also bred race winners - from show bloodlines. She has always believed that Arabians should be multi-purpose. Joanna Maxwell is one of the most reputable ECAHO Judges. She retired in 2017.
Mr. Peter Upton
Peter Upton studied art and art history at college and university. He is best known for his paintings depicting the desert scene and the Arab horse. A past President of the Arab Horse Society of Great Britain, an international judge, and a recognised expert on the history of the Arab horse. He writes regularly for the magazines, has been involved in films on the Arab horse, and is the author of several books, such as Desert Heritage: An Artist's Collection of Blunt's Original Arab Horses (1980), The Classic Arab Horse (1986), The Arabian Horse – History, Mystery and Magic (1998) Out of the Desert and The Arab Horse. He is ECAHO reputable Judge (retired in 2017), Instructor and co-author of ECAHO Judges´ Manual.
Dr. Hans-Joachim Nagel
His love for the Arabian horse began with the mare Hanan with whom he founded a worldwide unique breeding line. Far away from following fashion trends and show activities he created his own breeding program with intelligence and reason, which today enjoys the highest recognition all over the world. Following almost 50 years of selection and consistent breeding, his horses have their very own appearance, testament to a key attribute to successful breeding – thinking in generations. For many years was, amongst others, Executive Committee member of ECAHO, President of the WAHO, President of the German Registry VZAP. He is founder of the All Nations Cup.
Mr. Sami Suleiman Al Nohait
Mr. Sami Suleiman Al Nohait has been the main delegate to WAHO for the Kingdom of Saudi Arabia since 1992 and was part of the team responsible for the production of the first volume of their Stud Book at the time Saudi Arabia was approved by WAHO. Apart from many other senior official positions, Sami was for many years the Director General of the King Abdul Aziz Arabian Horses Centre at Dirab, where he was responsible for overseeing the Registry and Stud Book office. He has been a WAHO Life Member since 1990, and an Executive Committee member since 2004. He was one of the biggest supporters of ECAHO attending most of the meetings.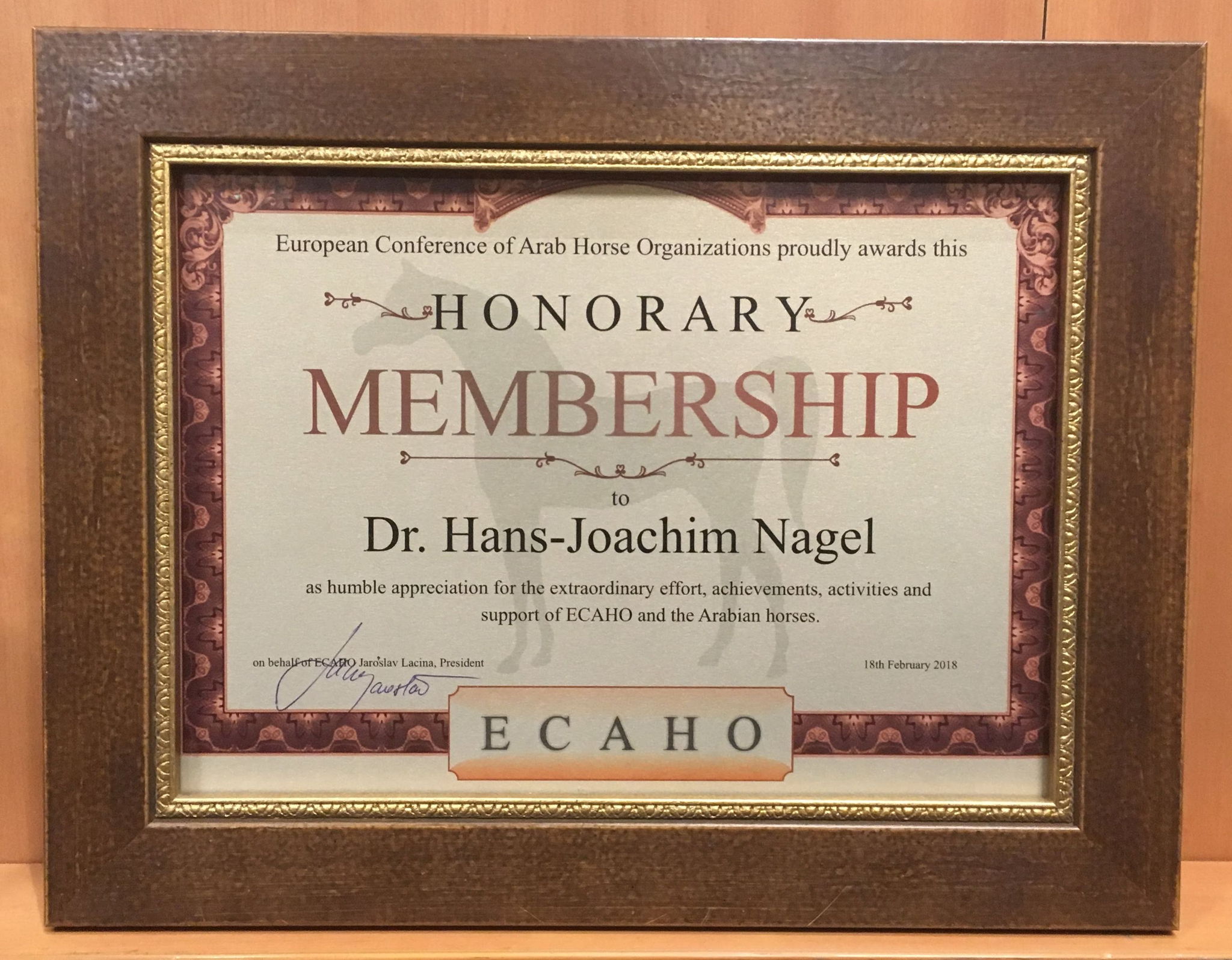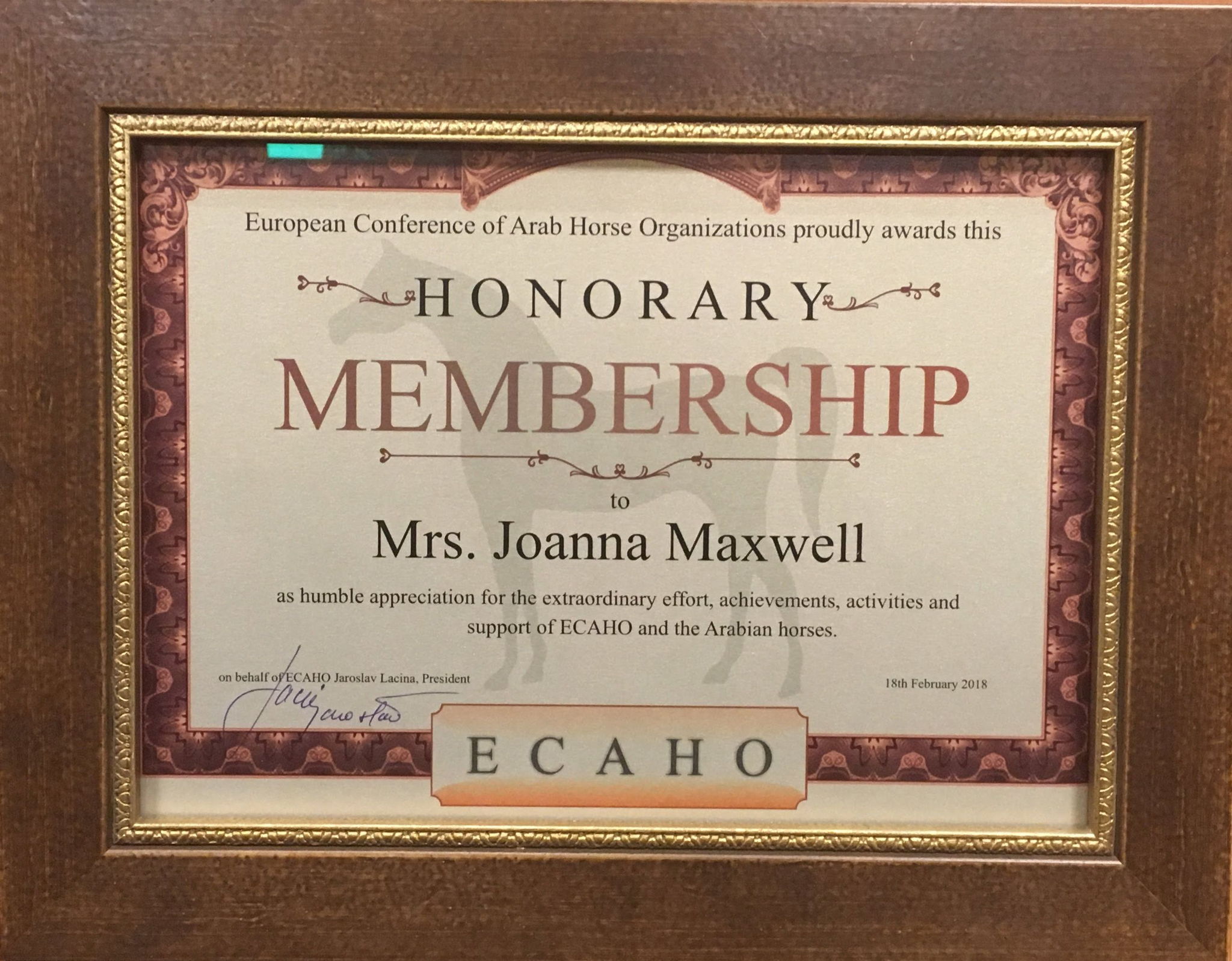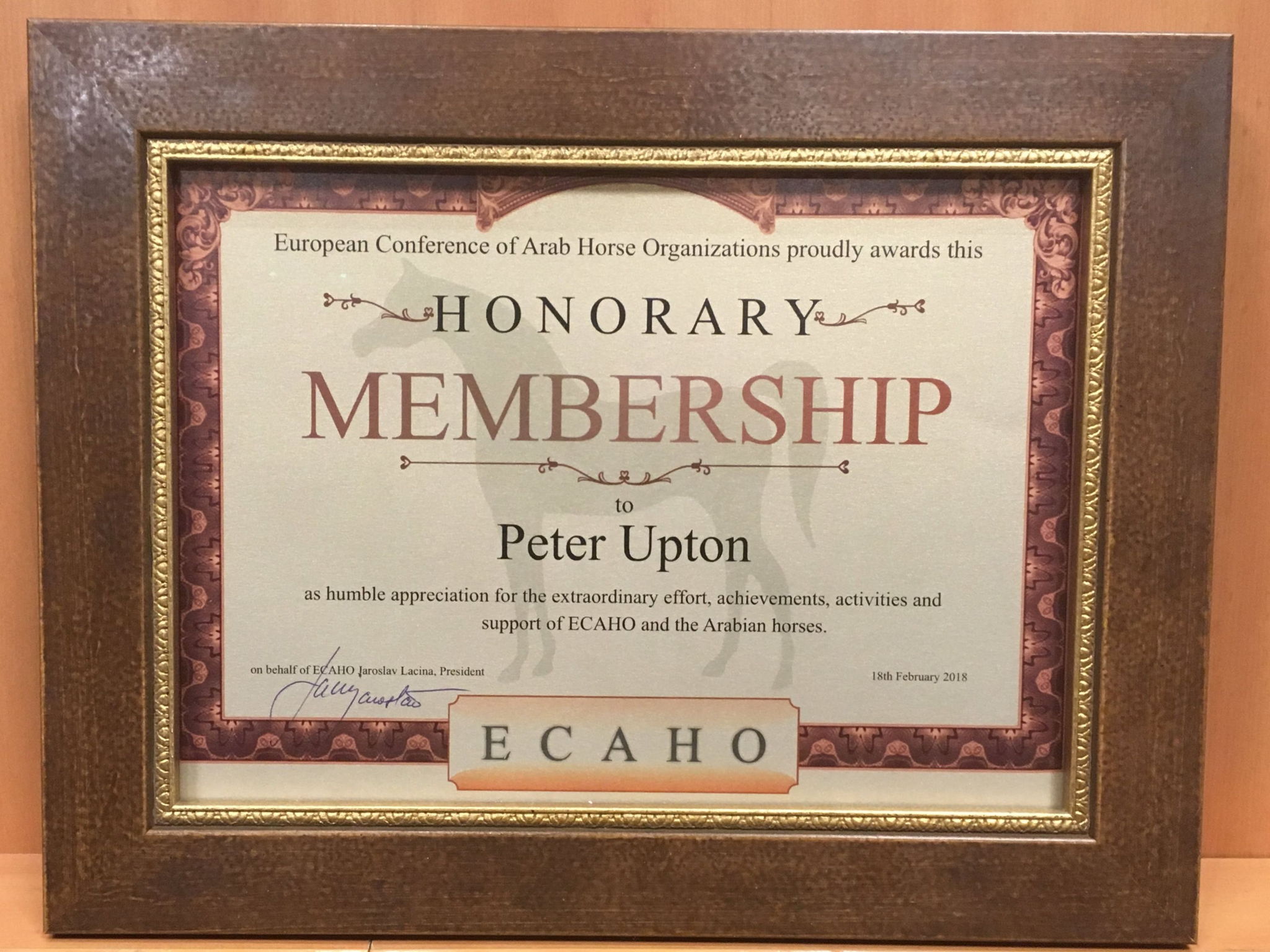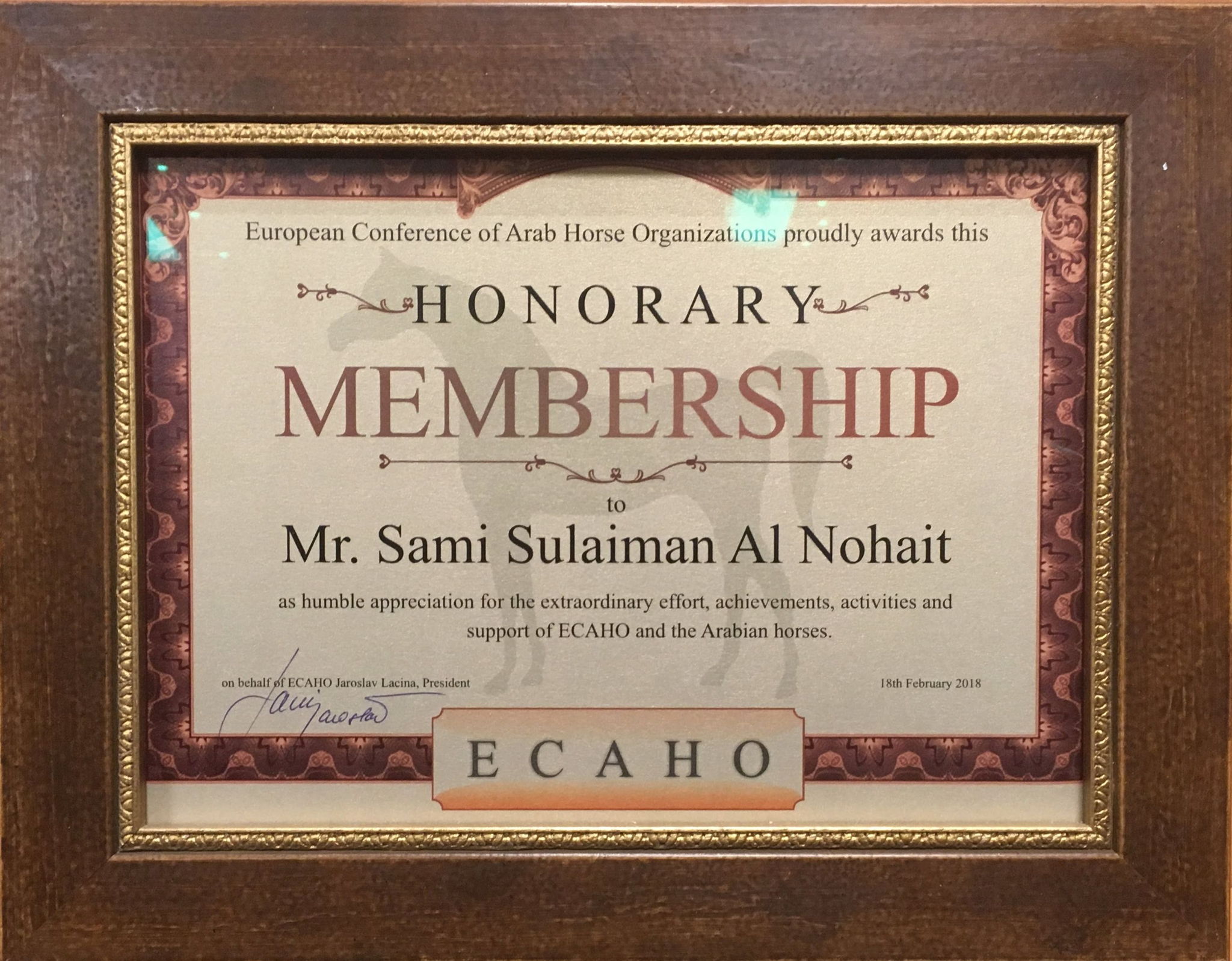 ---
2017
SAR Teresa de Borbón
Great supporter of the Arabian horses, acted as ECAHO DC and Judge for many decades, supporting the Spanish lines of Arabian horses. Now retired from the ECAHO lists but still active as breeder, show organizer and Judge in Spain.
Mrs. Ursula Rahm
Stood at the beginnings of ECAHO, acted as DC, worked in the Executive Committee and Commissions and many years as the Treasurer of ECAHO.
Dr. Nasr Marei
Long term Judge, Instructor, successful breeder and promoter of the Arabian breed. He decided to stop judging big shows and retired from the ECAHO list but still listed as National judge of Egypt.
Mr. Peter Gamlin
Very kind person, for many years ECAHO Judge, excellent breeder and supporter of Arabian horses, still active even in his 80´s.